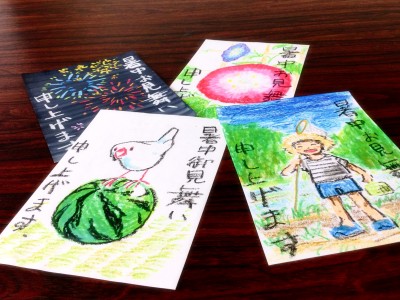 It's August again this year. It's summer. It's getting hotter and hotter.
This summer, due to COVID-19, many of you may be saying, 'It's summer vacation but I'm not going out, I'm staying home…'
It's good to go to the mountains or the sea where there aren't many people, but it's a bit painful to wear a mask while traveling in this heat.
I'm sure you will be spending a lot of time at home too. Last year's article was already "Late-summer greetings", but now it's not too late to get there before "First Day of Autumn". Let's draw a "Summer greeting"!
If you want to take the time to draw it firmly, it's a good idea to draw as a "Late-summer greeting" from the beginning.(I've always done so!)
The rainy season is really long this year. Even though the rainy season has not yet ended in some parts of Japan, the temperature is still over 30°C for some days.
Don't be patient, use a cooler or the like. The full-fledged summer heat is yet to come.
It is recommended to draw a picture letter at home to preserve your physical strength.