OUT LINE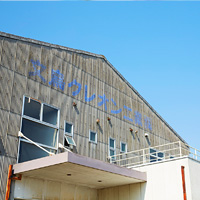 | | |
| --- | --- |
| Company Name | Buncho Corporation |
| Established | 1927 |
| Head Office | 5-18-4 Sakurada Kuki-city Saitama-ken 340-0203 Japan |
| Main Sales Department&Washimiya Factory | 5-18-4 Sakurada Kuki-city Saitama-ken 340-0203 Japan |
ACCESS TO WASHIMIYA FACTORY
Get off at JR Utsunomiya Line Higashiwashimiya Station. It takes about twenty minutes by walk
(Please go out of the only one west side gate and you can through the underpass so that get other side, Daiei department store, of the station.)
It takes ten minutes by car from Tohoku Expressway Kuki toll gate
Or, it takes seventeen minutes from Kazo toll gate
(Please also see the map for on foot for the details of the factory vicinity.)
HISTORY
We maintained our business activities without interruption even during World War ll. For twenty years after the War, while a market demand is further increased, we dedicated ourselves to educational and art circles by developing various coloring materials one after another and manufacturing them and our market share especially in the field of infant education exceeded 60 percent. In 1953, we were designated to JIS (Japanese Industrial Standard) plant of this field by the Japanese Government.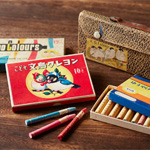 In 1960, we began to export our products inasmuch as they were highly valued by overseas art specialists for its fine and stable quality. The name "Buncho" means "Paddy Bird" and Buncho was named for this bird symbolizing a bird that is familiar and beloved among many people.
In 1968, Buncho moved its plant to Kurihashi located 30 miles north of Tokyo and has been manufacturing fine chemical products using various sorts of materials such as pigment, dye, coloring material, oils and fats and resin. Out of them, we have produced several original Buncho's specialty products.
In 1970's, we positively pushed our overseas 'business activities. In 1972, we joined hands with Dong-A Pencil Co., Ltd. in Korea and started to tender technical guidance. In 1974, a joint Dong-A Teaching materials Co., Ltd. was set up with them.
In 1980, we established Buncho(M)SDN/BHD in Malaysia. In such manner, Buncho has been complying with overseas market demands that require higher quality products and larger quantity.
In 1983, we joined ACMI and started work to make sure that all ingredients in our products are nontoxic.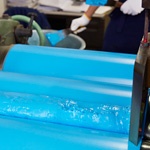 In 1984, we made an unstinted investment in order to make the best use of our high level of dispersion and pulverization technique so far accumulated. Early next year, we succeeded in developing new product of fine particles and made inroads into a new field. At the same time, we built a new plant in Washimiya (28 miles north of Tokyo) and increased highly efficient equipment. The production equipment at Kurihashi plant were renewed and the production of high quality and stable fine particles started.
The next year, after we had been convinced of a established mass production process, the fine particles project and all equipment in Kurihashi factory were transferred to Union Chemical Ltd., that is our affiliated company in Korea, in order to reduce costs in manufacturing and to expand our market.
Buncho contributes to the progress of society by developing its own creativity and producing high quality products manufactured under high and tight quality control.
CUSTOMERS
Gakken Co., Ltd.
Froebel-kan co., ltd.
Child Honsha Co., Ltd.
Sekai Bunka Publishing Inc.
Mate Co., Ltd.
Jakuetsu Co., Ltd.
Pentel Co., Ltd.
Aozora Co., Inc.
Ishikawa Gangu Inc.
Bumpodo
PriveAG Co., Ltd.
WESTEK INCORPORATED
edding International GmbH
OHTO CO., LTD.
Taisei Co., Ltd.
RECRUITING NEW EMPLOYEE
We are not recruiting new employee now.