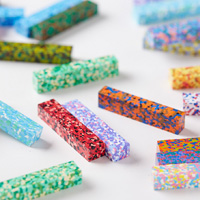 BabyColor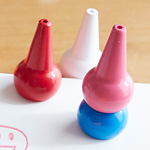 The concept behind this product was 'my first crayon'. These crayons are mainly targeted at children aged between 2 and 4. The main feature of these crayons is the distinct round shape that makes them easy to hold and draw with even for children who have yet to learn how to hold a regular crayon.
BabyColor crayons are made in such a way that you can draw on paper with them without the color rubbing off onto your hands. The unique design also means you can even put them on your fingers like finger puppets.
Known for being fun, easy to use and child-safe, these crayons have been a best seller for more than 20 years.
features
Easy to hold/use – even if you don't know how to hold a pen.
Durable and mess-free. Easily washes off from clothes.
Water soluble crayon.
AP (ACIM) approved.
Stackable design with air holes at both ends to help prevent choking if accidentally swallowed.
other
This product is AP (ACIM) approved. This means that it falls within the Art and Creative Materials Institute's (USA) safety guidelines for heavy metals, carcinogens and irritable substances.
Majelle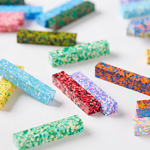 'Majelle' was designed with artists/creatives in mind. Combining countless pieces of colored chips, each stick of 'Majelle' produces an unimaginable array of colors. As of 2015, this highly acclaimed product is now also available at the Louvre Museum Shop in Paris.
Unlike traditional crayons which are oil based and repel water (therefore not water soluble), 'Majelle' can be smudged/rubbed to make it soluble in water. 'Majelle' has the characteristics of both oil and water based art materials.
features
A beautiful mosaic-like crayon made with countless colored pieces.
Create unimaginable colors with every stroke.
LEATHER REPAIR PEN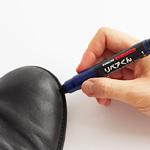 Used to quickly repair scuff marks and blemishes on leather goods such as bags and shoes.
Pen-shaped design for mess-free application.
This tools can also be used to fill small imperfections on leather goods and dries to form a water resistant coating. This coating is also flexible, making it also resistant to peeling.Dries in around 5-10 mins after applying and forms a water resistant layer after 1 hour.
features
Pen-shaped design for mess-free application.
Forms a water resistant coating after drying.
This coating is also flexible, making it also resistant to peeling.