introduction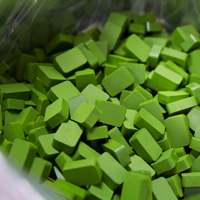 A Japanese manufacturer of drawing and marking item is seeking a stationery manufacturers to offer their ODM (design and manufacturing) services. They are experienced in manufacturing drawing items, since their first production in 1927. They are offering R&D outsourcing services as an outsourcee for the R&D project for their client (stationery manufacturer) Based on the client's request and specification, they develop products in their lab, and manufacture the products as a supplier. Their products are crayons, oil pastels, water color paints and pan paints targeting toddlers, students and artists.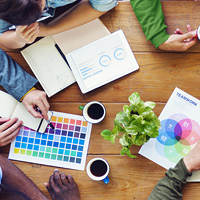 They also have a very good designed resin crayon, industrial solid marker, and additional valued marking products with such as remover functionalities. Their solid remover marker is a gel stick, and it can soak out the stain from the clothing. Their drawing items have been receiving favorable reviews in the Japanese market   for their safety and performance. They are able to meet with most of the requirements of the clients and are highly evaluated for its quality and results of their products. They have high technique to produce solid drawing item and, some of marker inks were changed to solid ink stick by them. Actually, their researcher in lab has a high development capability to give technical guidance on global stationery company.
They can also make a stable supply by their production system in short lead time. They supply high safety drawing items for the field of infant education. One of their most popular items, resin crayon, has both ACMI-AP certified product seals and CE marking (new EN-71-3) and has sold over 35 million pieces.  On the other hand, for the industrial market, they have developed solvent and water based solid paint marker, and it has many uses to the different scene.
They are very competitive outsourcee in the drawing product markets in Japan. They have been requested to conduct production development from a lot of companies in Japan and abroad, and they had released more than 80 items in recent 20 years for such as Gel crayon, Resin crayon  and Industrial solid paint. Especially, Gel crayon is one of their representative product, and it draw very smooth.
1
INDUSTRIAL SOLID MARKER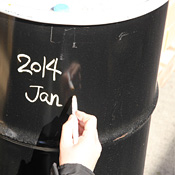 This company specializes and is experienced in producing industrial solid markers for specific applications.  To date, they have succeeded in developing special markers that other manufacturers have not been able to produce. These include industrial crayons that can be wiped clean but are resistant rain as well a permanent solvent based industrial solid marker.
Besides these, the company also produces solid markers designed for specific types of conditions like extreme high and low temperatures, indoors and outdoors as well as for metal, plastic, rubber and stainless steel surfaces.  Being their specialty, each of their markers features vibrant colors no matter the environment it's used in.
R&D products
| | | |
| --- | --- | --- |
| Category | Outline | Detail |
| Various Industrial Solid Markers | Industrial crayons for various applications | Different types for a variety of uses |
| Erasable Marker | Industrial crayon | Resistant to rain but can be wiped away |
| Solid Paint (solvent based) | Solid-type solvent based marker | Solid-type permanent marker |
| Marking Chalk | Industrial crayon | |
2
TOY CRAYONS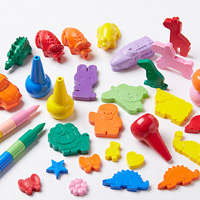 BabyColor is very good for the first drawing of toddler because it's designed based on safety and usability.
Designed crayons manufactures mainly in resin crayons. Resin crayon is not easy to break and make dart like as standard crayon. Depends on the mold, it can make various form of crayon, and it can be a toy, too.
We will be able to produce these crayons with your brand design. (We are not selling these crayons in the house brand now.) If you are interested in those plastic crayons, please contact us.
*** Toddlers can do drawing without marking their hands and cloth.
R&D products
| | | |
| --- | --- | --- |
| Category | Outline | Detail |
| Baby Color | Resin crayon developed for young children | Safe and easy to use crayons for young children |
| Animal Crayons | Animal shaped resin crayons | Monkey, Lion, Giraffe, etc. |
| Erasers | BabyColor eraser | - |
| Kaba Crayon | Endangered species campaign by designers | Fun, Hippo shaped crayons for drawing or decorating. |
| Puzzle Crayon 3D | 3D puzzle type resin crayons | Combine pieces to make new shapes |
| Puzzle Crayon Animals | 2D puzzle type resin crayons | Combine pieces to make new shapes |
| Dinosaur Crayons 2D | 2D Dinosaur crayons | Dinosaur craze! |
| Dinosaur Crayons 3D | 3D Dinosaur crayons | Dinosaur craze! |
| Kakeru Car | Pull-back car crayons | Body material is crayon |
| Rocket Crayons | Stackable rocket shape | - |
| Accessory Crayons | Accessory-shaped (e.g. bracelet) | - |
3
GENERAL STATIONALY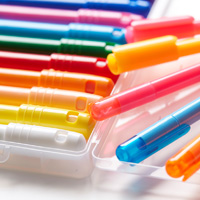 This company manufactures a wide range of consumer orientated stationary for numerous stationary companies and/or other businesses.
For example, white board crayons that can also be used on blackboards and glass surfaces, metallic crayons for blackboards, transparent solid underline markers, solid stain removal pens, solid leather repair pens as well as many other specialty tools/products.
R&D products
| | | |
| --- | --- | --- |
| Category | Outline | Detail |
| Dye Markers | Fabric marker for dyeing | Iron-on |
| Oil Pastels for home furniture and furnishings | Touch-up crayon for furniture | - |
| Watercolor Pencils | Watercolor Pencils | - |
| Gel Crayons | A crayon that draws smoothly | - |
| Washable Gel Crayons | Washable version of the above | - |
| Window Markers | Smooth surface crayons | Can also be used on glass and blackboards |
| Metalic Chalk Markers | Metalic version of the above | For blackboards |
| Non-dry Gel Crayons | Non-dry gel crayon | - |
| Solid Underline Markers | Solid-type transparent underline marker | Developed together with Korea |
| Memory Stick Pens | Memory pen | Solid-type memory pen (highlighter) |
| Removers | Stain remover | Solid-type stain remover pen |
| Repair-Kun | Solid-type touch-up pen for leather | Water color based touch-up pen |
| Herb Underline Markers | - | - |
| Whiteboard Markers | Ink-type dry erase markers | - |
| Whitedboard Crayons | Non-dry solid whiteboard crayon | Dry erase |
| KT-1 Wax | - | Art wax |
4
ART SUPPLIES for INFANTS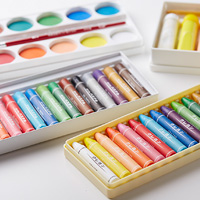 They have considered what is good for children, and they really take care of choosing safety material.
They can supply safety and additional valued drawing item for children. (Their product is ACMI AP certified.  The Art & Creative Materials Institute, Inc. (ACMI) is an international association of over 220 art, craft and creative material manufacturers which seeks to promote safety in art and creative products through its certification program. )
R&D products
| | | |
| --- | --- | --- |
| Category | Outline | Detail |
| Crayon | - | There are round and hexagonal types. |
| Water Soluble Crayon | - | The traces of drawing blur with water. |
| Pastel | Oil pastel | - |
| Paint | Watercolor Paint | - |
| Cake Color | Solid Paint | - |
| Poster Color | Opaque watercolor paint | Good concealment. |
| Fluorescent Poster Color | - | |
| Non-Dry Markers | Markers, hard to dry | - |
| Washable Markers | Inks can be dropped by washing | - |
5
ART SUPPLIES for PROFESSIONALS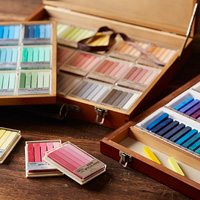 Buncho Corporation's specialist orientated art supplies include around 100 different colored crayons, 144 different colored soft pastels, 50 different Cake Color (24 Transparency colors and 30 Opaque colors) .
The crayons are soft, spread well, blend smoothly with other colors and are resistant to fading. The soft pastels feature a square in shape as opposed to the more commonly used spherical form factor. The solid water colors are known for their vibrant colors and resistance to fading.
R&D products
| | | |
| --- | --- | --- |
| Category | Outline | Detail |
| Oil Pastel | - | Light Stability, Mixed Color, Number of Colors |
| Soft Pastel | - | Square |
| Solid Paint | Watercolor | Transparency, Opacity |
| Oil Pastel for Chalk Art | Oil pastel Specialized For Chalk Art | Mixed Color, Recoating Capacity |