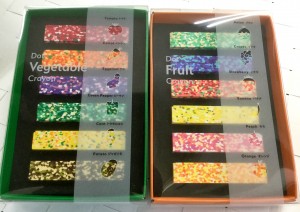 Aozora Co., Ltd. has released a new product.
Product names are " Dot Fruit Crayon " and " Dot Vegetable Crayon ".
Introducing two types of sets that image fruits and vegetables in the DotCrayon series.
The colors of "Flower" and "Musee" are a little subdued, but both colors are bright this time. We hope you enjoy the freshness of fruits and vegetables.
If you have the opportunity, please.
Click here for a large image.
The product introduction page of Aozora Co., Ltd. is here .