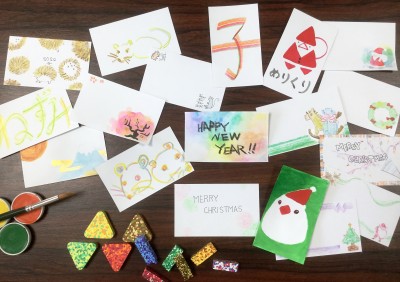 The middle of December is already over, and the first year of Reiwa is almost over. How are you spending
Last year, we talked about adding some small pictures and colors to a little Christmas or New Year card. However, many people may think that watercolors are a little difficult and crayons are sticky, even though there are art materials for children at home.
The atmosphere of a single-color card can be changed by simply applying a pale color with watercolor. It may be a good idea to take a picture of a crayon drawing and print it. If it is a colored pencil or a colored pen, it is easy to draw a simple flower or polka dot pattern on the edge. If the space is a little large, you can also draw it with 'BabyColor'.
I recommend 'Majelle', but since it's a little powdery art material, it might be for cards to be put in an envelope. I think it is the most suitable art material for one point.
It's a busy year-end and new year period, but I think people who come to this site are probably interested in art materials.It's surprisingly fun, so let's add some color to a card that is too simple!